:
Click a link below to learn
more:
Home Page

Schedule

Interview,
Photos

Resumé,
Tech Info

Movies

Workshops
& Urushi

Artist Statement
& Movie

Membership
& Shop

Artist Cottage

Links

Mailing List

ARTISTIC STATEMENT
Sha Sha Higby
I approach dance through the medium of sculpture. I interweave painterly manipulation of physical materials and textures I make one by one from wood, paper, silk, ceramic and gold leaf with a labyrinth of delicate props. My work strives to create a path where movement and stillness meet. Shreds of memory lace into a drama of a thousand intricate pieces, slowly moving, stirring our memory toward a sense of patience and timelessness.
The air surrounding us is like many planes in space, assorted canvases of images. Every time we move about, the space around us is filled with drawings, colorful sketches and complex patterns. Our thoughts blend into the air and space about us. With these "costume sculptures" I want to show how we are the elegant complexity of the atmospheres about us. Emotions and thoughts cluster on the surface of our bodies and then break away, fly and float off. Each bundle of emotion becomes yet another entity in itself, splitting into many facets again, gathering and returning to its source.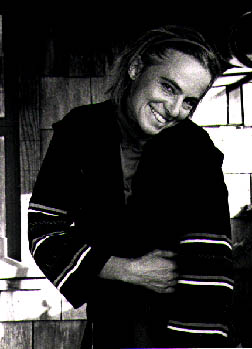 On the surface of our skin there are multiple little theaters and stages. One inch away from our body is the sky under which the drama of this tiny world unfolds. As the costume stirs itself, it is as if every movement is filled with thousands of adventures.

As a child, I was fascinated by the peek boxes we used to make out of shoe boxes. You looked into the peephole and saw cutout layered landscapes portraying a silent wonderful paper world. I seek to do this today. I am allured by the "theatrical" quality of flipping through ancient palm leaf drawings from India. They are visual line clusters of symbolic journeys through love, emotions, battles, and life. One of my goals has been to make theater like turning through pages of a book of paintings. The stylized turning of the pages makes the intricate detail of each individual picture come to life. The slow shivery movements of each scene make the potential of the next scene even greater. A shattered piece of a story seems even richer alone because it has the potential of being inserted into the whole.

Performance is the discovery of things as they happen at that moment for the first time. Nothing is rehearsed. The variable elements that are brought to each performance are painstakingly assembled. When these new things are discovered on stage, it is as if the audience and myself for one moment actually feel like the same being, momentarily fascinated by the same thing. Yet each person's interpretation is different from the other, one of the parts comprising the whole. The audience is like the many strings of a tent, supporting and encapsulating the environment within the canvas billows.

To assemble the parts of a performance, I make things with my hands out of many materials. The handmade parts of the costume are my door into performance. The costume, along with its set and props, takes nearly two years to develop. I develop the costume and performance together so that at any point during the two year period, it' development could be seen, and could be considered complete. But the longer I work on the costume/sculptures they become fuller with more environment around them. I love making beautiful objects, as well as taking them into movement and life.

e-mail: shasha@shashahigby.com
PLAY ME NOW MOVIE:

[ SHA SHA'S PAGE ]